I don't make New Year's resolutions; they're pointless and only lead to disappointment. Instead, I like to challenge myself, and over the Christmas break, I did just that.
I wanted to see how hard it would be to make at least one open source contribution to GitHub a day for a month.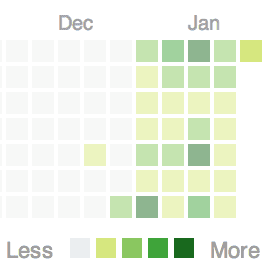 As it turns out, it wasn't that difficult, though I admit some of my contributions were a little on the light side: merging pull requests someone else had made, for instance. Still, it counted for me.
In the process, I re-affirmed that I love to code. It's something I was afraid I might grow out of, or become bored by, but instead, it was itself and intrinsic motivator. I found that getting the first contribution was often a catalyst for even more coding.
You can check out my GitHub Profile for all the nitty gritty details.