I get regular email from recruiters looking to make a commission from finding me a new job. Unfortunately for them, I'm really happy at Artsy. Whomp whomp.
Every now and then, I get reached out to with a request to hop on a quick phone call and "connect" that's so silly, I'll share it with a few friends.
Yesterday, I got this.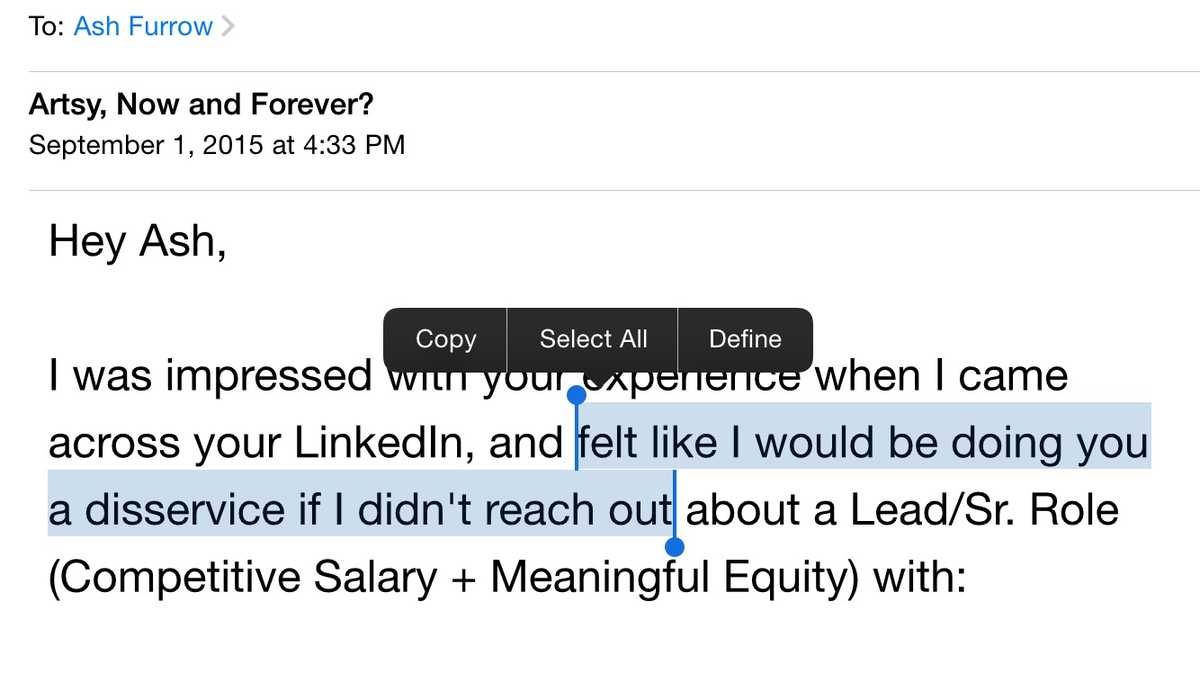 I thought that their apparent fear – that they might be letting me down by not offering their services – was funny enough, but then I noticed the subject line: "Artsy, Now and Forever?"
Forever is a long time. Even if Artsy becomes some kind of Weyland-Yutani, the heat death of the universe will get us all in the end. So no, obviously, I won't be working at Artsy forever.
But I'm mature enough to recognize that fact, and to think about it without subsequently feeling compelled to find a new job. This tactic is a cheap ploy by the recruiter, in my opinion.
It's important to me that I reflect on the reasons I like (or dislike) a job. There are attitudes and habits that I've picked up at Artsy which I'd like to preserve, but that's also been true at other places I've worked. Without perspective gained at my previous employers, I might not have found my way to Artsy. Without understanding why I like Artsy, I might not find my way to the next awesome place.