I brought a shitty old Breville milk frothing pitcher into work when Evgeny and Oleg bought the office a Rocky/Silvia combo (awesome!). The milk pitcher doesn't have a spout, is way too large, and everyone's been dissatisfied with it. Last week, I bought a Toroid 12oz milk pitcher, and the results have been fantastic.
You can't see it from the pictures online, but the toroid features a very unique shape on the underside that makes it easy to foam milk. No, like properly foam milk, even with a shitty $80 espresso machine. You point the steam wand straight at the bottom of the pitcher and it takes care of the whirlpool action for you; the steam pressure creates a kind of torus shape called a toroid (get it?) and so you just lower and raise the pitcher to create the however much foam you want. Couldn't be easier.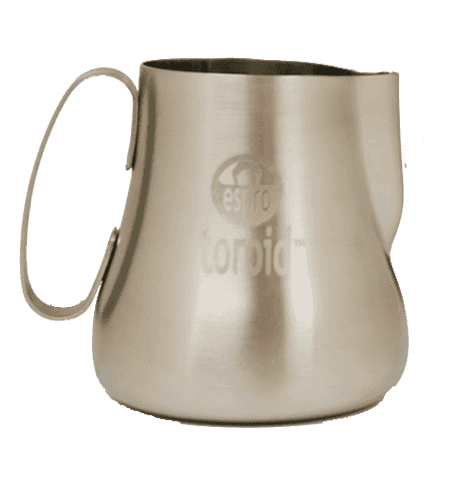 I've been using one at home for over 6 months and I couldn't be happier.
Let me make this simple for you: if you're making milk-based espresso drinks and you're not happy with the results, you just need to go buy this. It's incredible.
Get it on Amazon in 12oz and 20oz versions (I'd recommend the 12oz).